Korean Wallpaper Children / Kid's Collection Digital Printing
The beauty about life and the world is the endless possibilities and offerings that it offers. Wallpaper as well is no different . With over thousands and thousand of new designs and collections every year. Korean Wallpaper offers endless possibilities of designs, texture, quality, trends, composition of materials, as well as price range.
When it comes to children's or kid's room the best wallpaper will be Korean wallpaper . Wallpapers in general have 2 sizes that are most frequently used . The first is European/Asian wallpaper that has a dimension of 0.53 m X 10 m ( 50 Sqft net area after wastages ) and Korean wallpaper that measures at 1.06 m X 15 m ( 150 Sqft net area after wastages) .Korean wallpaper is also known as korea wallpaper as it's imported from korea.

The difficulties our customers go thru with kid's is that even though you want them to remain the same age forever but reality is that they will group up and will have changes in styles/preference for the room . Korean wallpapers and our European wallpaper is not difficult to change / remove as it uses a water based glue that leaves no smell and minimises the difficulty in removing the wallpaper.
At our showroom Furnishings Hub located in Puchong, Malaysia we have a series kid's/children's collection for wallpapers which encompasses Korean/European wallpaper collections. Let's look at some of them .
According to nations online "Clouds were created between earth and heaven, they symbolize the celestial realm. Clouds produce rain that brings benefits to the world. Clouds are also one of the most important elements in Chinese traditional paintings. Clouds are also symbols of celestial mobility because many gods and immortals used the cloud as a vehicle on which they traveled. Scrolling clouds are associated with deities, foretelling their arrival."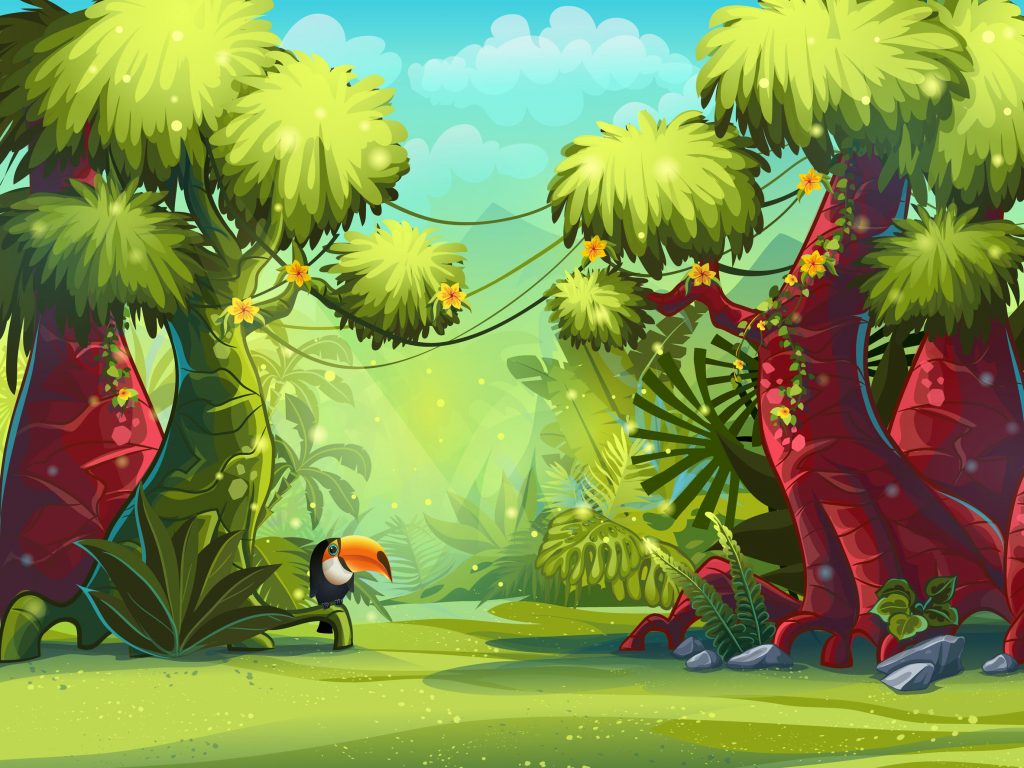 A jungle scenary provides a view that allows an escape into a land of imagination and paradise . This beautiful wallpaper not only provides a limitless imagination . A child's imagination is only limited by it's foreseeable inspirations within it''s surrounding environment . Being a supplier of Malaysia wallpaper there is no one that understands this better than us . This wallpaper provides an image of a beautiful and bright sunny morning with the favourite toucan bird.
Nothing amazes more than a galaxy or space wallpapers . These wallpapers are custom made to the exact size of your wall. This image represents our life as a journey with a clear and defined pathway leading to an endless future with possibilies. Not very common for Malaysia wallpaper however with new technology and printing methods the wallpapers
can be made to HD+ quality with rich colours. Stars or starry wallpapers , planets and space wallpapers as well as the night sky wallpapers. This wallpaper from our wallpaper shop can be installed on walls or on the ceiling .Thats right wallpaper for walls and ceiling wallpapers . Check out more galaxy inspired wallpapers
Who does not love underwater or the ocean view . Why not get a wallpaper done with a your favourite underwater view.Transform your kid's room with sea wallpapers that would transform your kid's wall into an underwater aquarium . This beautiful image once transformed into a wallpaper would bear the images of the underwater world, with a coral reef that let's you escape into a world of paradise.
Camping or adventures are what kid's look forward to . Unfortunately a lof of parents today are too busy in the working world that the significance of camping has lost it's value. Get this wood/wooden wall inspired wallpapers and transform the kid's room into a place of adventure. This mural wallpaper definitely adds significant value to your interior and give a make-over to the little one's world.
When you have a daughter , every parent feels like their little girl is a princess and they should . The daughters are always princesses in their parents eyes. Transform the room with light coloured yet soothing wallpaper with a unicorn theme. This wallpaper can be used as a feature wallpaper for the wall opposing the bed or the side wall. When there is a positive environment with a dreamy feel it doesn't restrict your child's imagination.
This amazing castle wallpaper is one of the hundreds of designs you can choose from. Get this wallpaper custom made under our digital printing division . Guaranteed premium quality product as our Malaysian wallpaper shop .
Furnishings Hub is a one stop soft furnishings solution centre. We sell Korean wallpaper, European wallpaper,curtains, roller blinds, zebra blinds, vinyl flooring, SPC flooring, laminate flooring, & carpet tiles. We handle all sorts of projects from residential, commercial and government jobs. Located in Puchong, Malaysia we have over 30 years of experience carrying hundreds of wallpaper collections that are rich in texture and of the highest quality, 800 curtain fabrics to choose from, 100 over vinyl flooring and carpet tiles up for grabs and hundreds of materials for window blinds. Special deals for interior designers and contractors as well available .

Benefits of doing business with us –
Free Site Visit.
Free Moisture Testing.
Consultation On Selection Of Designs.
Warranty For Product & Installation unlike others.
Furnishings Hub ( wholly owned by M2 Holdings Sdn Bhd )(1192580-M)
No 21-1 , Jalan Merbah 3, Bandar Puchong Jaya, 47170, Bandar Baru Puchong, Selangor.
( First above Chiang Heng Jewellery )
Tel : 03-8080 5566 Fax: 038082 5566
Email : sales@furnishingshub.com